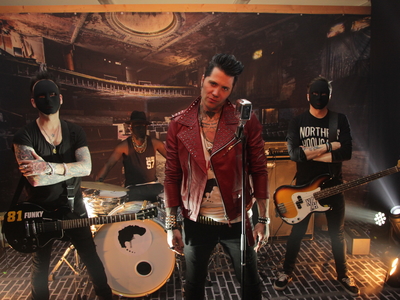 Brolle i showen Elvis, Cash, The Killer & Me
Available Few left No tickets in stock
Some of our events are second-hand sales so the price may be higher than the one on the ticket.
NOTE! Tickets are sent by e-mail to print at home!
Restrictions: 13 year limit
Brolle slog igenom över en natt när han deltog i "Popstars" 2001 där han genom sina karismatiska framträdanden och extraordinära rock'n'roll-röst vann svenska folkets hjärtan. Hans första egenkomponerade singel "Playing With Fire" blev en stor hit och resulterade i ett flertal Grammisnomineringar. Efter flera albumsläpp, inklusive hitsingeln "Det är Hon" och ett flitigt turnerande, gick han upp på musikalscenen för att spelade huvudrollen i succén "The Buddy Holly Musical" på Göta Lejon. Under hösten och vintern har vi sett honom i huvudrollen i "Elvis, Cash, The Killer & Me" och i början av 2019 tar han den hyllade showen med sig ut på arenaturné!