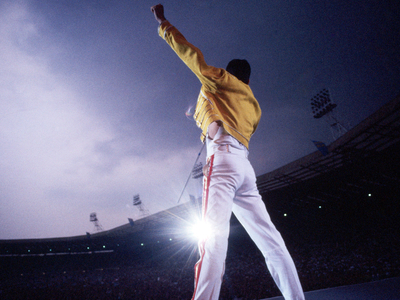 Available Few left No tickets in stock
Some of our events are second-hand sales so the price may be higher than the one on the ticket.
Tip: Choose payment invoice and pay 14 days after you received your tickets!
Restrictions: 13 year limit
Längd: ca 2,5 timme inkl. paus
---
Under 2016-17 spelades hyllningen "Freddie 70 Years" till Queen & Freddie 50 gånger med översvallande respons! Nu är uppföljaren här - "Freddie Forever"! Bakom produktionen står Erik Rynefors och på scenen regerar Johan Boding, alias "King of Queen" - uppbackad av Night of Queen Band & Choir. Sedan starten 2008 är målet för Night of Queen att hylla Freddie & Queen genom "Sound-alike" och att allt framförs Live! Freddies musik och minne lever för evigt - Freddie Forever!Av 26 låtar i "Freddie 70 Years" så skall minst 10 låtar bytas ut till förmån för låtar från skivorna Jazz - 78, Live Killers -79 samt Made in Heaven - 95.