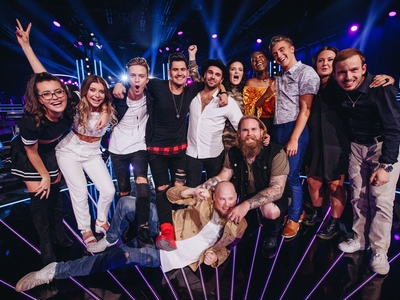 Available Few left No tickets in stock
Some of our events are second-hand sales so the price may be higher than the one on the ticket.
NOTE! Tickets are sent by e-mail to print at home!
Restrictions: 13 year limit
Insläpp: 18:00. 
Du behöver vara på plats i studion senast kl 19:00, men kom i god tid så du hinner mingla och upptäcka alla spännande aktiviteter från Idols sponsorer. 
Sluttid: 23.00. 
Åldersgräns: 13 år, 7 år i målsmans sällskap.
Idolbussarna går från Spånga station direkt till tv-studion. Efter sändningen går det bussar tillbaka till Spånga station. 
Bussarna till studion går mellan kl 17.45-18.50. Bussarna tillbaks till Spånga station går mellan kl 22.50-23.30
---
Sveriges största talangtävling i musik är tillbaka. Årets jury består av Kisthi Tomita, Alexander Kronlund, Nikki Amini och allas favorit Anders Bagge.