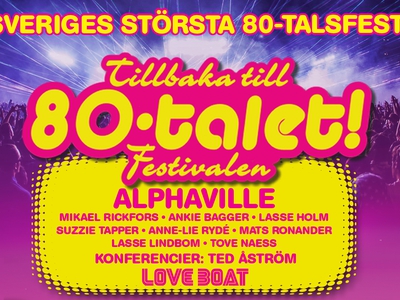 Some of our events are second-hand sales so the price may be higher than the one on the ticket.
Tip: Choose payment invoice and pay 14 days after you received your tickets!
Restrictions: 18 year limit
ALPHAVILLE, MIKAEL RICKFORS, ANKIE BAGGER, LASSE HOLM, SUZZIE TAPPER, ANNE-LIE RYDÉ , MATS RONANDER, LASSE LINDBOM, TOVE NAESS, 
Konferencier: TED ÅSTRÖM
DJ´s från Love Boat levererar musik och kärlek mellan artistuppträdandena.
---
Det blir en historisk konsert med sköna 80-talshits du inte vill missa!