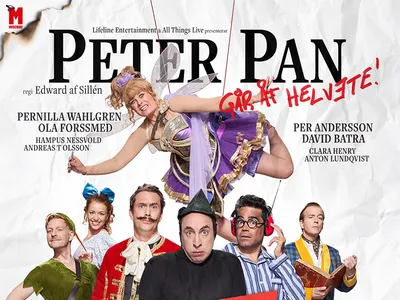 Peter Pan går åt helvete
Var med när amatörgruppen Teater Thalia ska iscensätta sin största utmaning hittills; "Peter Pan" – där allt som kan gå fel, tyvärr går fel. Vi vet alla att "the show must go on" – men kommer den här teatergruppen någonsin nå Neverland innan hela scenen fullkomligt kraschar samman? Delta när dom kämpar sig igenom den mest olycksfyllda, vansinniga uppsättningen någonsin om pojken som aldrig ville bli stor.
---
Events
Some of our events are second-hand sales so the price may be higher than the one on the ticket.
Malmö Arena, Malmö
2023-05-05 19:30
---
Malmö Arena, Malmö
2023-05-06 15:00
---
Malmö Arena, Malmö
2023-05-06 19:30
---