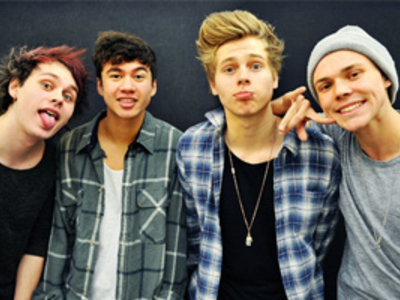 SATURDAY, 19:30
5 Seconds of Summer
Available Few left No tickets in stock
Tip: Choose payment invoice and pay 14 days after you received your tickets!
Restrictions: 13 year limit

5 Seconds of Summer (5sos) är ett australienskt pop-rockband som bildades år 2011 i Sydney, Australien. 5 Seconds of Summer släppte sin debutlåt "Out of My Limit" i november 2012 exklusivt bara i hemlandet Australien och Nya Zeeland. Den 7 december 2012 släpptes bandets andra EP, "Somewhere New - EP" I februari 2014 släppte de singeln "She looks so Perfect" vilken toppade listorna i Australien, Nya Zealand, Irland och Storbritannien. Bandet släppte senare under 2014 även EP:erna "She Looks So Perfect - EP" och "Don't Stop - EP" Deras självbetitlade debutalbum, "5 Seconds Of Summer", släpptes den 27 juni 2014. Bandet har även agerat som förband åt Hot Chelle Rae och One Direction.