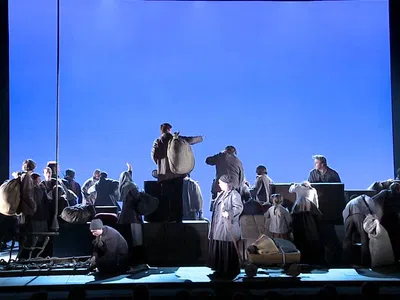 Kristina från Duvemåla Konsert
Konserten kommer att spelas av en ensemble på över 100 personer på scen och i huvudrollerna Kristina och Karl Oskar ser vi Viktoria Tocca och John Martin Bengtsson. Robert gestaltas av Martin Redhe Nord, Ulrika av Evelyn Jons och Fina-Kajsa/berättaren av Marianne Mörck. För musiken svarar Dalasinfoniettan och dess kör under ledning av Anders Eljas.
Musiken i Kristina från Duvemåla är tidlös och berör på djupet – en episk berättelse baserad på Vilhelm Mobergs utvandrarepos med musik av Benny Andersson och text av Björn Ulvaeus: bland annat låg Guldet blev till sand 110 veckor på Svensktoppen i slutet av 90-talet och "Du måste finnas" har tolkats av både Susan Boyle, brittiska musikalstjärnan Kerry Ellis och Newkid.
---
Events
Some of our events are second-hand sales so the price may be higher than the one on the ticket.