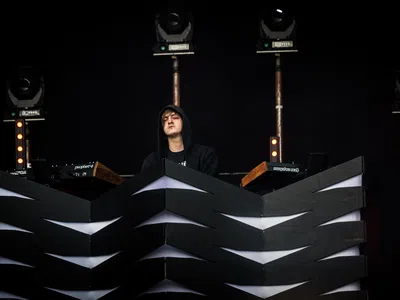 Perturbator
Perturbator är ljudet som skulle ha uppstått ifall 80-talets pastellfärgade synthvåg hade slungats rakt in i en dystopiskt kaotisk framtid. I de djupa skuggorna vilar obeskrivliga fasor, adrenalinnivån är förhöjd, atmosfären har en olycksbådande smak.
Sen 2012 års egenutgivna EP "Night Driving Avenger" och fullängdaren "Terror 404" har Perturbator rört sig från de små klubbarna till att inta storfestivaler som Hellfest, Download och Graspop. Det mästerliga albumet "New Model" gick rakt in som sjua på amerikanska Billboards electronic-lista och 2019 krönte Perturbator med att spela inför ofattbara 500 000 personer på Pol'and'Rock Festival. Längs vägen har han även samarbetat med såväl electronicagiganten Jean-Michel Jarre som de svenska metalfavoriterna Cult of Luna.
---
Events
Some of our events are second-hand sales so the price may be higher than the one on the ticket.
Berns, Stockholm
2021-10-24 20:00
---
Pustervik, Göteborg
2021-10-29 19:00
---