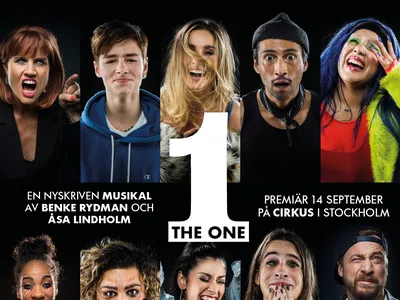 The One
Ett antal dansare går på sitt livs viktigaste audition, den för "The One". Producenten och koreografen, spelade av Christine Meltzer och Erik "Jerka" Johansson, leder audition och de söker efter en stjärna. Dansarna vill alla vinna och därmed få chansen till det stora genombrottet och få ett värde i, vad de tycker är sina utsatta och värdelösa liv. Men för att nå dit måste de berätta om sig själva och de känner sig till en början tveksamma till att öppna sig och blotta sin sårbarhet. De är alla vana vid att hålla upp en fasad.
Detta är en nyskriven musikal av Fredrik "Benke" Rydman och Åsa Lindholm med tidigare outgiven musik av populära svenska låtskrivare som Linnea Deb, Joy Deb, Miss Li, Sonny Gustafsson, Lukas Nathanson och Anton Hård af Segerstad. 
---
Events
Some of our events are second-hand sales so the price may be higher than the one on the ticket.
Cirkus, Stockholm
2023-09-28 19:00
---
Cirkus, Stockholm
2023-09-29 19:00
---
Cirkus, Stockholm
2023-09-30 15:00
---
Cirkus, Stockholm
2023-09-30 19:00
---
Cirkus, Stockholm
2023-10-12 19:00
---
Cirkus, Stockholm
2023-10-13 19:00
---
Cirkus, Stockholm
2023-10-14 15:00
---
Cirkus, Stockholm
2023-10-14 19:00
---
Cirkus, Stockholm
2023-10-27 19:00
---
Cirkus, Stockholm
2023-10-28 15:00
---
Cirkus, Stockholm
2023-10-28 19:00
---
Cirkus, Stockholm
2023-10-29 16:00
---